You Are In: Home >> About Us
Craythorne & de Tessier are the ultimate specialists in stainless steel and other high quality tools with an emphasis on the marine industry.
All our tools and other equipment are fully tested before adding them into our catalogue. Tools are hung in seawater, some are tested by specialist test laboratories, who do nasty things like boiling them in acids but our tools have been reported as being of the best quality that had been seen. If the item doesn't come up to scratch or doesn't work well, we bin it and only in this way can we keep up our standards. Only one in every 6 or 8 items gets into our catalogue.
Our tools are used all over the World. Yachtsmen, classic and vintage car enthusiasts, scientists, hospitals, the food, oil and chemical industries, commercial divers and British Nuclear Fuels are amongst a few of our customers. Join them for a new world of cleanable, autoclaveable elegant tools, that can be used in the harshest conditions.
Contact Craythorne & de Tessier, THE source for stainless steel marine tools in Britain and serving the World.
Visit our stand at the Boat Shows in London and Southampton.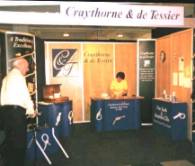 Craythorne & de Tessier


7 Sawmill Yard,
Blair Atholl,
Perthshire,
United Kingdom
PH18 5TL
Tel: +44 (0)1796 482119
Fax: +44 (0)1796 482111
Email:&nbspinfo@cdet.co.uk
Opening Times: Monday to Friday 9:30am to 5:00pm